Weekly Specials: yay or nay?
So I was thinking about what I want to do here on my website. I used to blog a lot of 'everyday' life thingys, which is fun but not very exciting. I was thinking that I should start some weekly installments, for example, um, architecture... writing? As you can see this is substantially fleshed out in my mind.
Seriously though, while I love posting pictures and having informal rants about things, I feel like I could do little lectures about design and architecture, something to reintroduce design in everyday life. I am inspired by the 10 minute presentations we've been doing at school on modern designers, giving a brief overview of their works and influences. I have so many interests in design that I haven't pursued (like font design, graphic design, positive learning environments, healing environments, structures, etccccc), that it would be informative for me as well.
Potentially Interesting Design Tid-Bit Numero Uno:
Joe Columbo's 'Smoke Glass', 1964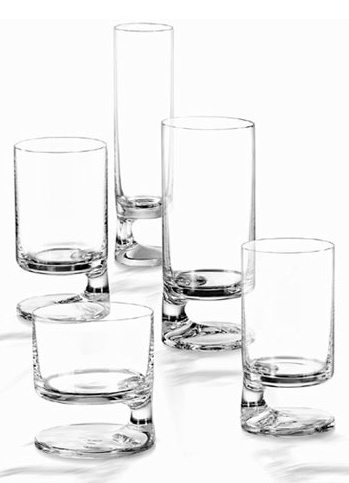 Joe Columbo purportedly designed the Smoke Glass for the following reason: When at parties, there was no way to hold your drink and your cigar while introducing yourself to women. With the smoke glass, you can slide your hand around the stem and hold your cigar while taking a woman's hand in greeting.
Design: helping men pick up women since 1964.
eh? eh?
Well, I'm gonna think about it and try to come up with some structured approach. As you probably noticed, I redesigned the website because I felt like it was too hard to read with white-on-black. So now you should have no visual excuses to skim. *cough*jed*cough*